Hands down, the scariest moment I've had abroad was being in London
on a bus
the moment that another bus and a subway train was bombed on July 7, 2005.
I actually should have been on the Picadilly line--the one that got bombed--but I had a field trip that day, and so, took the bus that morning. I knew something was wrong when people kept pouring onto the bus--it seemed so much busier than normal morning rush hour. I was almost to my destination, Trafalgar Square, when a woman comes running down from the second story of the double-decker bus yelling, "There's a bomb on a bus!" She was so scared that she wrenched open the doors to the bus while the bus was still moving. Luckily, it was approaching our stop, so she didn't get hurt.
Everyone quickly got off of the bus. As soon as I stood on the pavement, I head sirens. So many sirens. I haven't ever heard that many sirens in my life--and I hope I never do again. They seemed like they went on and on and on for hours that day. That's one of the most vivid things I remember.
I met my teacher at the foot of the National Gallery--there were only 6 of the 8 students in my class, and she didn't have any cell phone service. We were all scared because no one knew what had happened yet. The National Gallery closed, so we headed just across the street to the Crypt Cafe at St.-Martin's-in-the-Fields Church. My teacher bought us hot cocoa to calm us down while she tried to get anyone from the school on the phone.
Finally, she got through to another teacher, who took my class over from Julie, my teacher. She had to walk for miles and miles to get home to her family because all of the public transportation had been shut down. My teacher led us from central London, past Buckingham Palace, through Belgravia to our resident hall in Chelsea. It seemed like we walked for days, but it really wasn't more than two hours or so. The other teacher tried to keep us moving, and didn't want us to get distracted by tv or radio, so we still were unsure about exactly what had happened. Everyone we walked past was panicking, running all over, so we knew, whatever it was, was very, very bad.
By the time I got back to the residence hall, it was 2:30 in the afternoon--I'd left for school around 8 AM. My roommate had called my parents when the bombings happened (around 9 AM UK time, 4 AM US time), so they were completely panicked by the time I was able to call them. Turns out, the American Embassy had called them to let them know I was missing for those 7 hours. I cannot even imagine getting
that
call as a parent.
Luckily, everyone in my school was safe and sound; some of them had gotten stuck on the subway, and others had been asked to stay in the school building until the buildings around the bus bombings had been searched.
Not everyone was lucky. Over 50 Londoners lost their lives that day--many on a double decker bus near Russel Square and others on a Picadilly line subway. Over 700 others were injured in the bombings.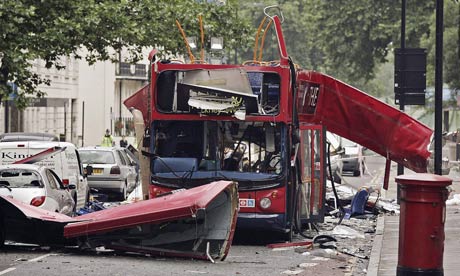 I hope I never have to go through anything like that again.